Frequently asked questions
How do I choose air purifier?
---
Room size: Air purifiers are designed for specific room sizes, and are tested and rated accordingly. Always buy an air purifier whose recommended room size is the same or larger than your room.
Clean Air Delivery Rate (CADR): It measures the efficiency of an air purifier, taking into account room size and the volume of clean air produced per minute. The removal of dust, pollen and smoke, which are the three most common indoor air pollutants, is rated. The higher the CADR, the better the air purifier. Pay special attention to the value for the pollutant that affects you the most.
---
What do the color levels on the LED bar on my air purifier show?
---
---
How often do the filters need to be replaced?
---
The replacement filter indicators will signal when to replace the HEPA filter(s) and/or carbon filters(s). The replacement period will vary depending on the hours of use and air quality. However, under normal operating conditions, filter life is estimated to be the following: ‧2" HEPA filter: 2 years ‧Carbon filter with pre-filter: 6 months ‧2" carbon filter: 12 – 18 months ‧Hybrid filter: 12 months Please note that the original HEPA filter shipped with the units should be replaced after 12 months.
---
Can I use another brand of filter, or private label filters in an AeraMax Professional?
---
No, the EnviroSmart™ sensor technology in an AeraMax Professional takes into consideration the type of filters loaded into the unit to optimize performance.
---
How often should I run my systems and at what setting?
---
Systems have intelligent sensors that automatically adjust unit settings to optimize performance and energy efficiency. You can simply select from two primary modes and the units will monitor themselves: Normal Mode: Rapid purification is initiated when room is occupied and/or strong odors are present. Unit then lowers to energy-saving mode until sensors detect occupancy and/or odor. For use in bathrooms, cafeterias, break areas, and locker rooms where rapid purification and odor adsorption are desired when room is occupied. Quiet Mode: Unit runs at or below ambient sound level when room is occupied. When empty, rapid purification is initiated then lowers into energy-saving mode until sensors detect occupancy and/or odor. This mode is recommended for systems installed in class rooms, work/common areas, conference rooms, offices, and other meeting areas where rapid purification is desired when room is not occupied. Override settings are also available. Please consult your owner's manual for further information.
---
I have mold, can AeraMax Professional help?
---
Not with the source of the mold. Consult a mold remediator. For more information, contact The National Association of Mold Remediators and Inspectors. However, AeraMax Professional utilizes a high efficiency particulate air (HEPA) filter, which captures airborne germs and allergens including mold spores that are drawn into the system.
---
How do I override the EnviroSmart™ technology?
---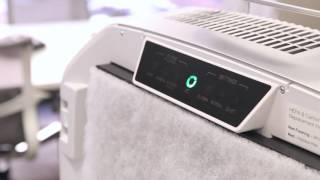 ---
---